This post is also available in: Dansk
All photos © Bente Steffensen og Uffe Damm Andersen, unless otherwise stated.
First mate
It had gotten dark when we parked behind the red four-wheel drive at the bridge over Rio La Caldera outside the small town of Vaqueros in Northwest Argentina.
We had just sat down in the back seat of the car and said hello to Giselle and Facundo when we were offered mate. It was with a little scepticism that we tasted the most important stimulant of the Argentinians for the first time – mate.
And why were we sitting in a car in the dark an evening in early May and drink mate?
It's probably a bit much to say that we drank mate, it was only a single sip before we handed the mate back and said "gracias".
At that time we were not quite ready for the drink, which for a beginner is most reminiscent of a very bitter tea with a hint of smoke from an extinguished bonfire. But if you are offered mate by an Argentinean, then you know you have a friend. And that's exactly what we had been given, and now we were owl watching in Northwest Argentina – or owling as it is also called. You can read or re-read how we got to know them in How eBird and Three Unidentified Birds Made Us New Friends.
The article continues below this Advertisement
And there were owls
The area where we were owling is a forest area where the municipality is engaged in a major urban development project, but fortunately there is still forest and nature in the area.
Our owling in Northwest Argentina began well. We hadn't driven far before Facundo spotted the first owl. It was a Tropical Screech-Owl sitting in a tree close to the road.
It is not easy from the back seat of a car trying to photograph owls in the dark. But luckily, we were out with some real birders, who of course had a powerful flashlight, so we managed to get a couple of decent photos of the owl.
A little further on there was another Tropical Screech-Owl, but it got more exciting a little later.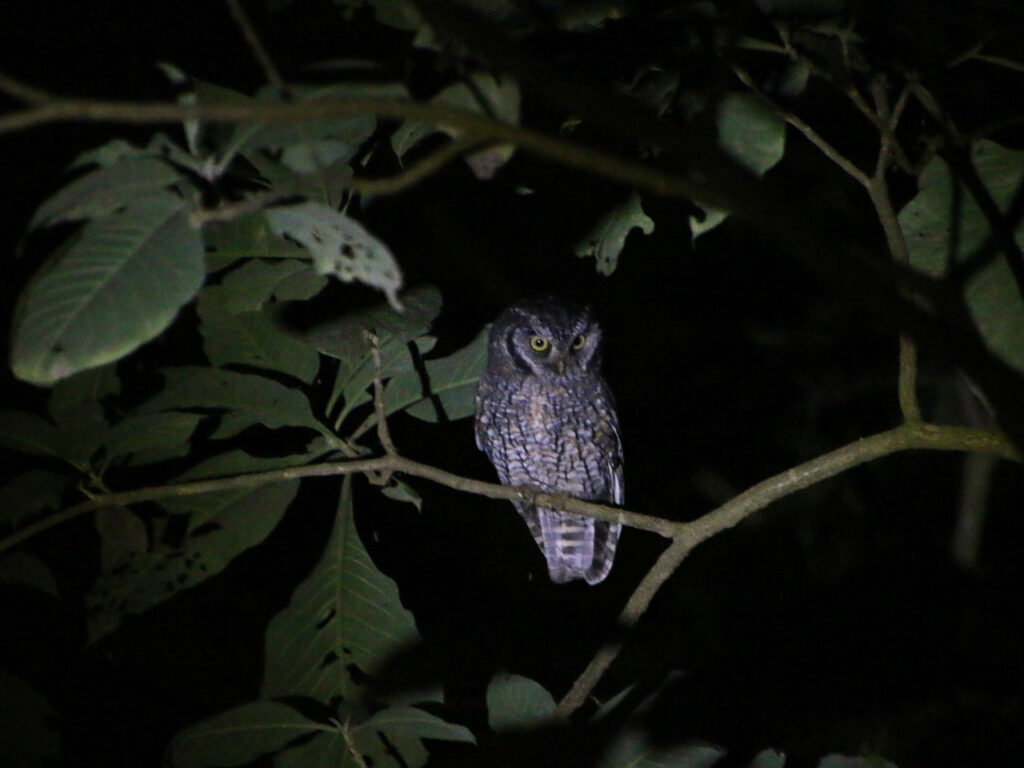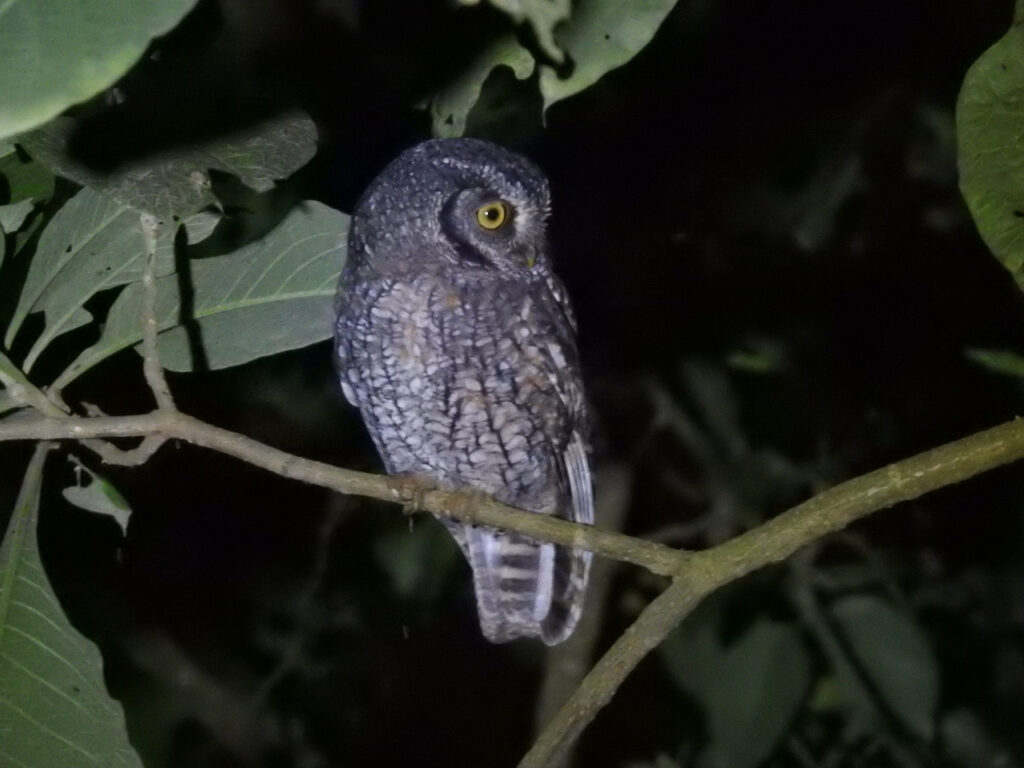 A voice in the dark
At a boom across the road, we parked and continued by foot. In the distance we could hear a voice in the dark. It was an owl, but we were too far away to identify it. We continued slowly to get closer. After a few turns we could hear the voice very clearly and the owl had to be very close.
It was not a Tropical Screech-Owl, we could hear that, because we knew that species voice from eg. Peru. But what owl was it then? We didn't know, but Giselle and Facundo knew their stuff. They were happy when they said it was a Buff-fronted Owl. Their joy was due to the fact that it was the first time they had found it in this area and Giselle rushed to record the voice with her cell phone as documentation.That recording can you listen to here:
A well-hidden owl
Due to the darkness and the dense vegetation we could not see the owl, but it did not sit far away. Gently, our Argentinian friends slid down a slope and disappeared into the bush to find it. In order not to cause too much disturbance, we waited on the dirt road and followed the light cone from the lamp that systematically scanned the trees. But the owl was incredibly well hidden
After a few minutes of fruitless search, Giselle and Facundo returned to the road. The owl had meanwhile become silent – maybe it had moved! We assessed the situation quietly and decided to wait a few minutes, and if the owl didn't start saying anything, we would go back towards the car.
We had not gone far when the owl started singing again from the same place, so we hurried back. This time only Giselle disappeared into the bushes under the trees – she really wanted to find it for us so we could see it and maybe even get a photo.
But the Buff-fronted Owl was not cooperative, and we didn't manage to see it.
You are probably thinking: 'How does the owl really look like?' Therefore, have been allowed to show you a photo of another Buff-fronted Owl, which Giselles has photographed. And that's a nice owl!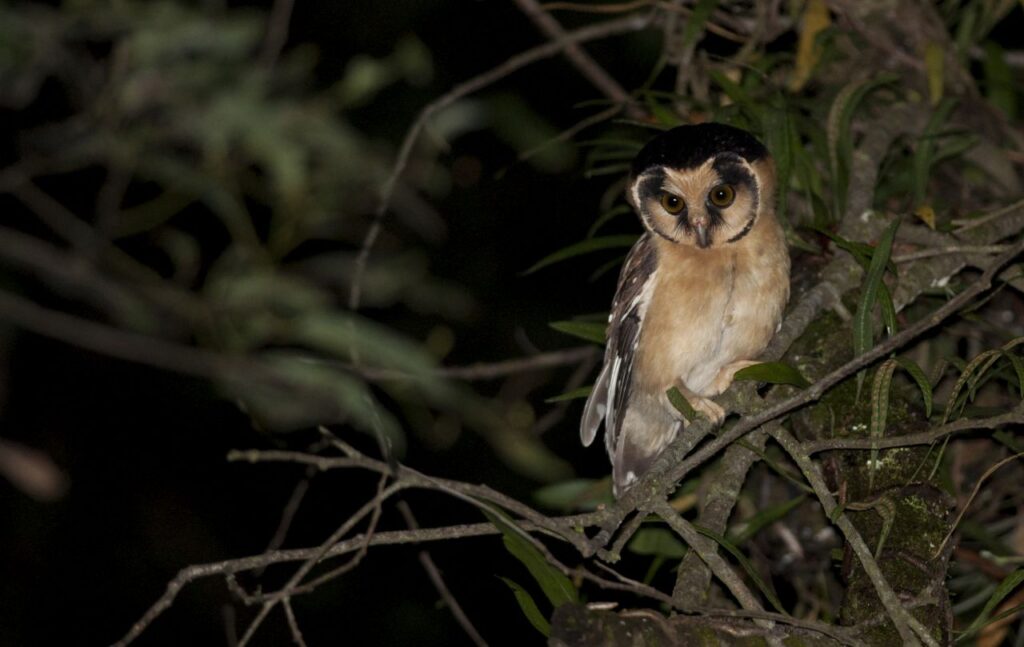 Afterbirding
By eleven o'clock we had found three Tropical Screech-Owl and a Buff-fronted Owl and not much else.
The fatigue began to set in and so did the hunger. As none of us had eaten dinner, we drove back to Vaqueros and found a small place where we could buy something to eat.
We finished a good evening with hygge (yes hygge is a Danish word that according to Uffes brother, now is accepted in the English Dictionary), empanadas and cold beers which fortunately are available even when it is late….
It was a perfect end to an owling trip in Northwest Argentina.
Many thanks to Giselle Mangini for letting us use her photo of the Buff-fronted Owl. All other photos © Bente Steffensen & Uffe Damm Andersen, unless otherwise stated.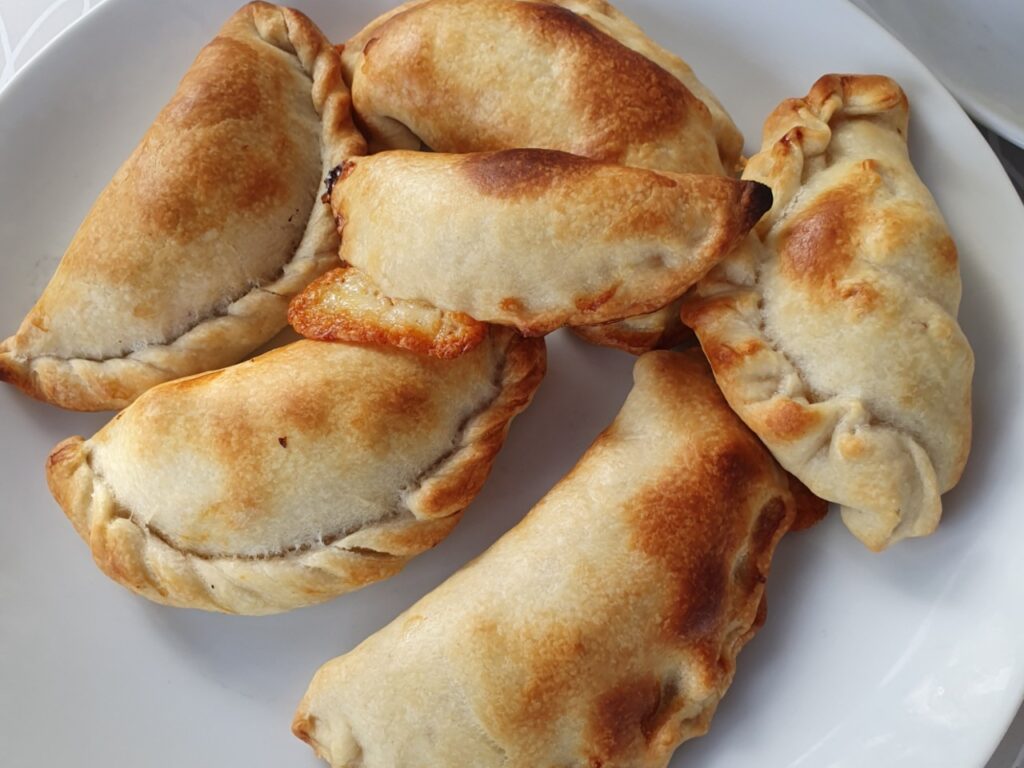 Factbox
Most people associate owls with the night. Most owls are also active at night and dusk and seek food during the dark hours of the day. Their distinctive appearance is due to adaptation to this way of life. But there are also species that are active in the light hours.
Common to all owls is a sharp sight, a formidable hearing and a silent – often slow – flight. They are adapted to catch small mammals that make up most of their food. But owls have a wide range of food consisting of vertebrates and invertebrates.
The owls are distributed throughout most of the world and can be found in virtually all terrestrial habitats and in urban environments and cities.
Owls belong to the order Strigiformes, which is taxonomically divided into two families: barn-owls (Tytonidae) and typical owls (Strigidae).
Barn-owls (Tytonidae)
Consists of 2 genera with a total of 16 species.
Barn-owls are found from sea level up to approx. 4000 masl.
Species vary in size from approx. 23 – 57 cm.
Typical owls (Strigidae):
Consists of 26 genera with a total of 222 species.
Typical owls are found from sea level habitats up to approx. 2000 m.o.h. (locally up to 4700 masl.).
Species vary in size from approx. 12 – 75 cm.
Sources
Bruce, M.D. (2019). Barn-owls (Tytonidae). In: del Hoyo, J., Elliott, A., Sargatal, J., Christie, D.A. & de Juana, E. (eds.). Handbook of the Birds of the World Alive. Lynx Edicions, Barcelona. (retrieved from https://www.hbw.com/node/52259 on 8 November 2019).
Marks, J.S., Cannings, R.J. & Mikkola, H. (2019). Typical Owls (Strigidae). In: del Hoyo, J., Elliott, A., Sargatal, J., Christie, D.A. & de Juana, E. (eds.). Handbook of the Birds of the World Alive. Lynx Edicions, Barcelona. (retrieved from https://www.hbw.com/node/52260 on 8 November 2019).