This post is also available in: Dansk
Eclipse Day – mandag d. 21. august 2017
Så var det endelig blevet "Eclipse Day". Vi var som vanligt tidligt oppe – lige til solopgangen – og vejret så heldigvis lovende ud. Mod syd var der nogle tynde højtliggende skyer og hvis de bare holdt sig sydpå ville de ikke blive noget problem.
Der var allerede en pænt lang kø til "vores" kaffebiks, og det var endda et kvarter før de åbnede! Os "fastliggere" kunne godt mærke at der var kommet mange flere gæster det seneste døgn. Der var folk alle vegne, lange køer til toiletterne og altså også til kaffen.
Det endte med en billigere "filterkaffe" hos biksen der ellers sælger bisquits and gravy(!) da vi også skulle nå at have den "Eclipse breakfast" som vi havde booket hjemmefra.
Alle gjorde sig klar og det gjorde vi også på vores hjørne og fik kameraer og teleskop sat op. Skyerne vagte nu en vis bekymring da de desværre bevægede sig nordpå og nærmede sig området, hvor solen ville være under totaliteten. Men heldigvis var de meget tynde og solen kunne ses igennem uden nogle problemer. Ventetiden frem til lidt før selve totaliteten brugte vi på at snakke med naboerne, kigge på solpletter og ellers følge, at månen stille og roligt gled ind foran solen.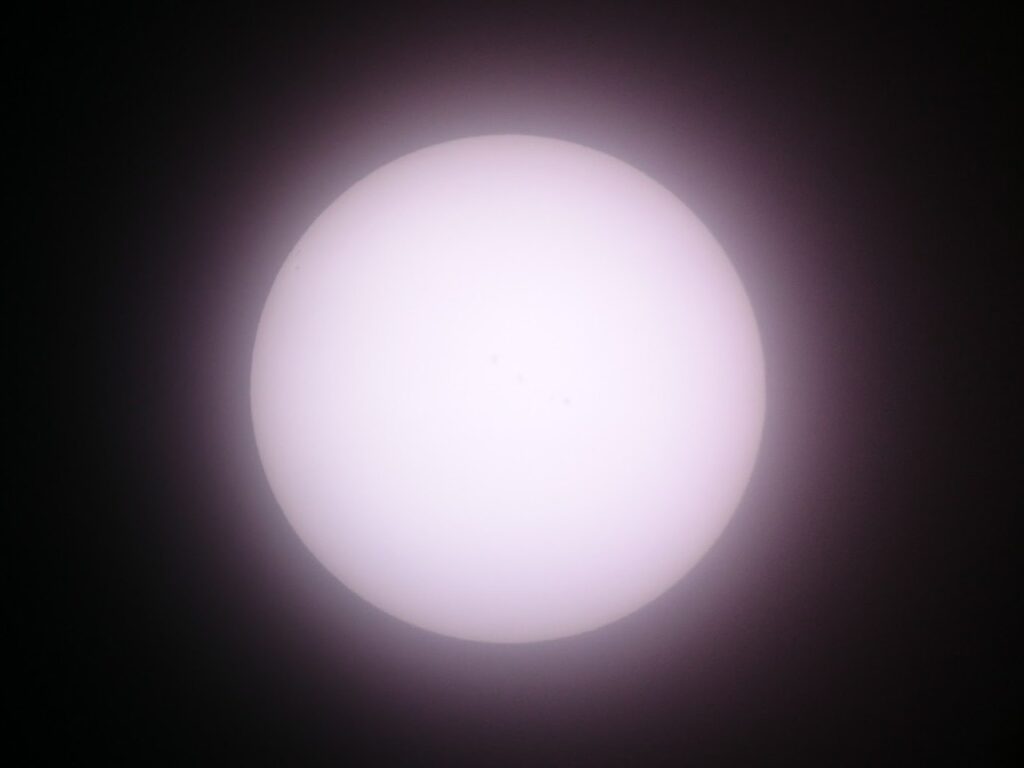 Totalitet
Resten er næsten ikke til at beskrive og er noget, der bare skal opleves. Stemningen, de tusindvis af menneskers reaktion lige op til, under og lige efter totaliteten – det var både vildt og meget følelsesladet!
Det var The Great American Eclipse – som den totale solformørkelse blev promoveret som i USA!
Det hele går bare så hurtigt og der er så meget man gerne vil nå at opleve, så det er en meget surrealistisk oplevelse. Det var vanvittigt flot at se den totale solformørkelse, først ramte månens skygge Mount Jefferson bag pg så Solar Town da totaliteten indtræf. Det var vildt med coronaen og i teleskopet kunne vi oven i købet senogle imponerende solar flares. Enkelte stjerner der kortvarigt blev synlige, planeten Venus nær solen og the diamond ring da totaliteten sluttede. Under formørkelsen blev mørkt og alligevel var der tusmørke i horisonten og temperaturen faldt.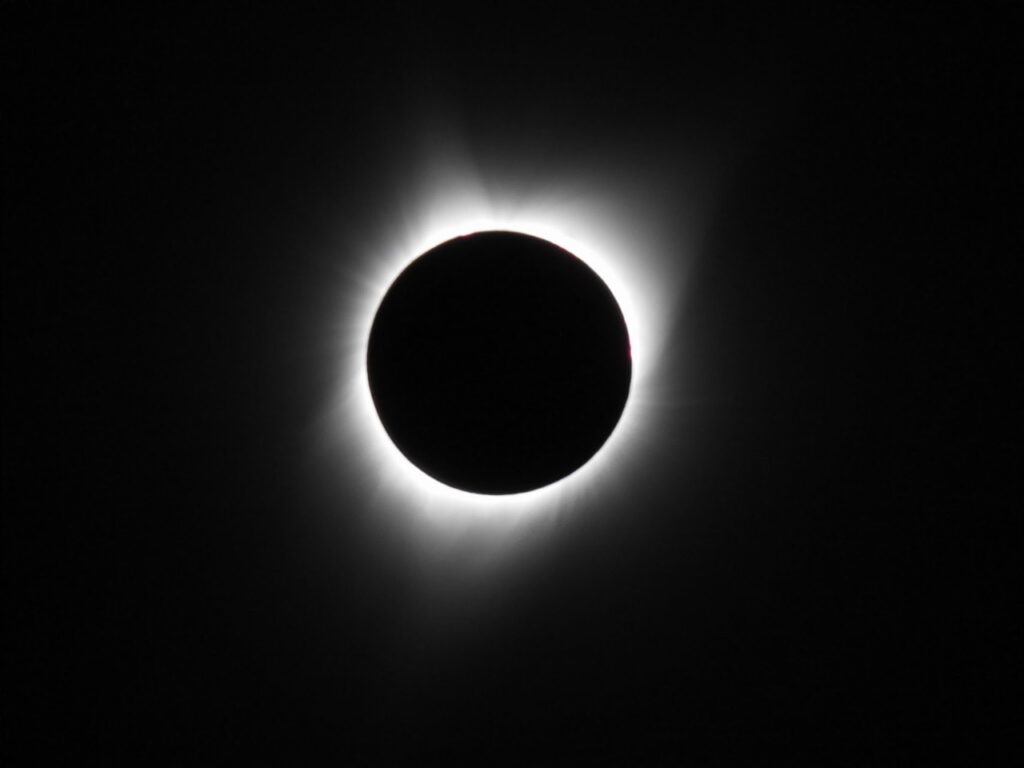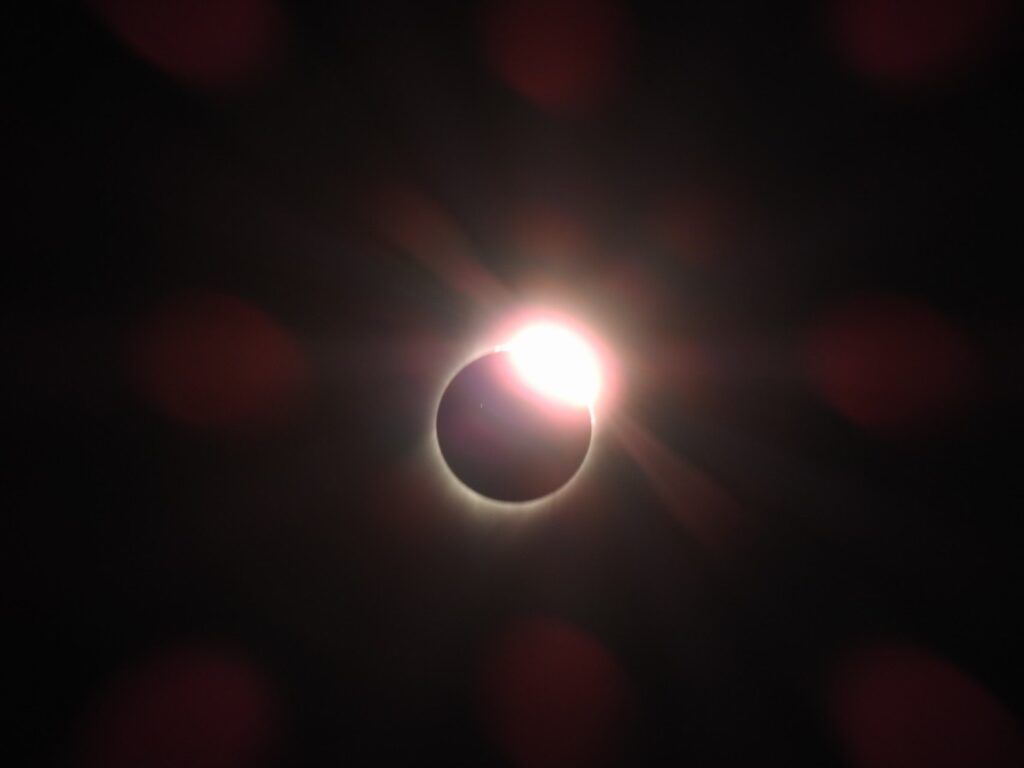 To minutter og to sekunder varede totaliten på centerlinjen i "Solar Town", Madras, Oregon.
Få minutter efter begyndte de første biler, at forlade pladsen og det varede ikke længe før trafikken gik i stå ude på highwayen. Vi ville under alle omstændighedet tidligt kører sidst på dagen og måske endda vente til tirsdag afhængig af, hvordan trafikken blev afviklet.
Men uanset så var det en fantastisk oplevelse. En helt anden oplevelse end sidste gang vi oplevede en total solformørkelse (Australien, nov. 2012), der også var fantastisk, men denne gang var vi bare mere forberedt – man kan nærmest sige mere erfaren.
Vi er klar til den tredje!
Eclipse chasers!
Alle fotos © Bente Steffensen & Uffe Damm Andersen.