This post is also available in: Dansk
All photos © Bente Steffensen og Uffe Damm Andersen.
Global Big Day 2019
How many bird species can be recorded worldwide in a single day?
The answer is 6942!
At least that was the result of Global Big Day 2019, on May 4. We had to settle for a more modest number of approx. 69 species.
Although 6942 species is an impressive number and corresponds to 2/3 of the world's bird species, the 2018 record of 7001 species was not beaten. However, this year there was a record attendance, of more than 34,000 people in 173 countries.
You can read Team eBird's Global Big Day 2019 summary in the article Global Big Day 2019: The biggest day in birding. See also our postscript at the end of this article.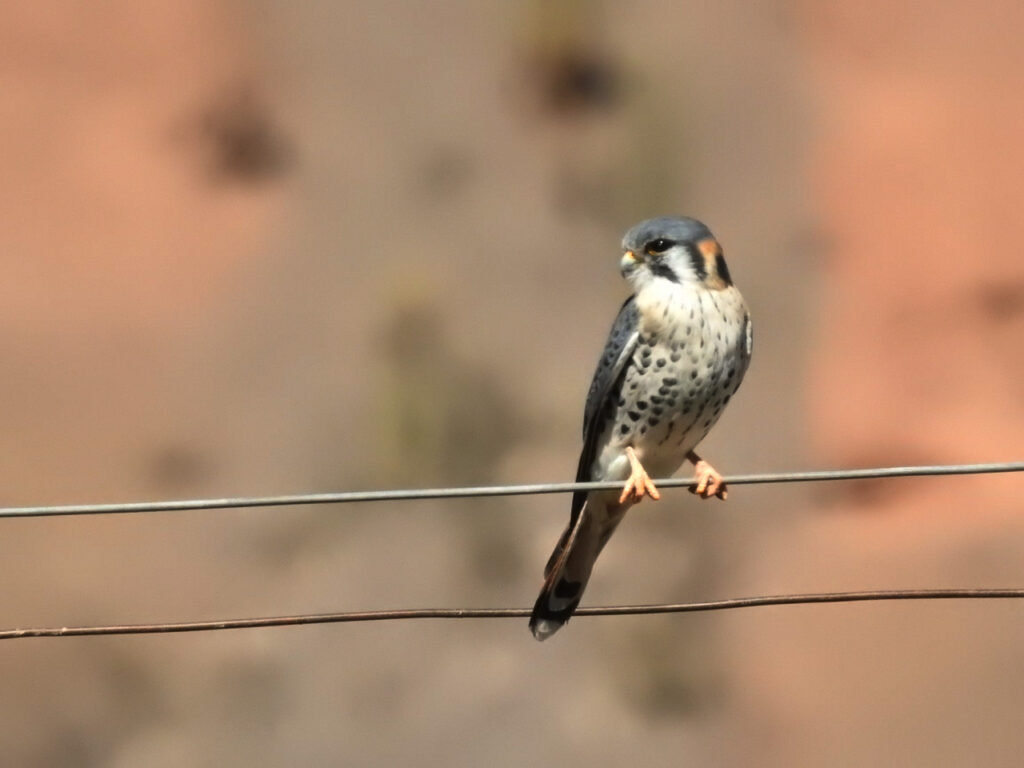 A meeting in historical settings
The last evening in April we were at the Güemes Museum in Salta. We were not there to learn about Martín Miguel de Güemes, the local military leader who, during the Argentine War of Independence in 1810-1825, defended north-western Argentina against the Spanish. No, we were there because Aves Salta Club de Observadores (Aves Salta) held a planning and strategy meeting for the upcoming Global Big Day.
Whether Aves Salta deliberately chose to have the planning meeting here because of the symbolism, we do not know. But in a way, the surroundings suited the meeting very well as we, a few days later, was going to defend Argentina's ranking in the top ten, over countries with the most recorded bird species in a single day.
It was a nice meeting and it's always fun to meet others who share the same interest. After the meeting, we went with the rest of our Global Big Day team Javier (who was team leader) and Martin – to a café and got the last practical details in place. Our team was to cover the highlands of the mountains west of Salta.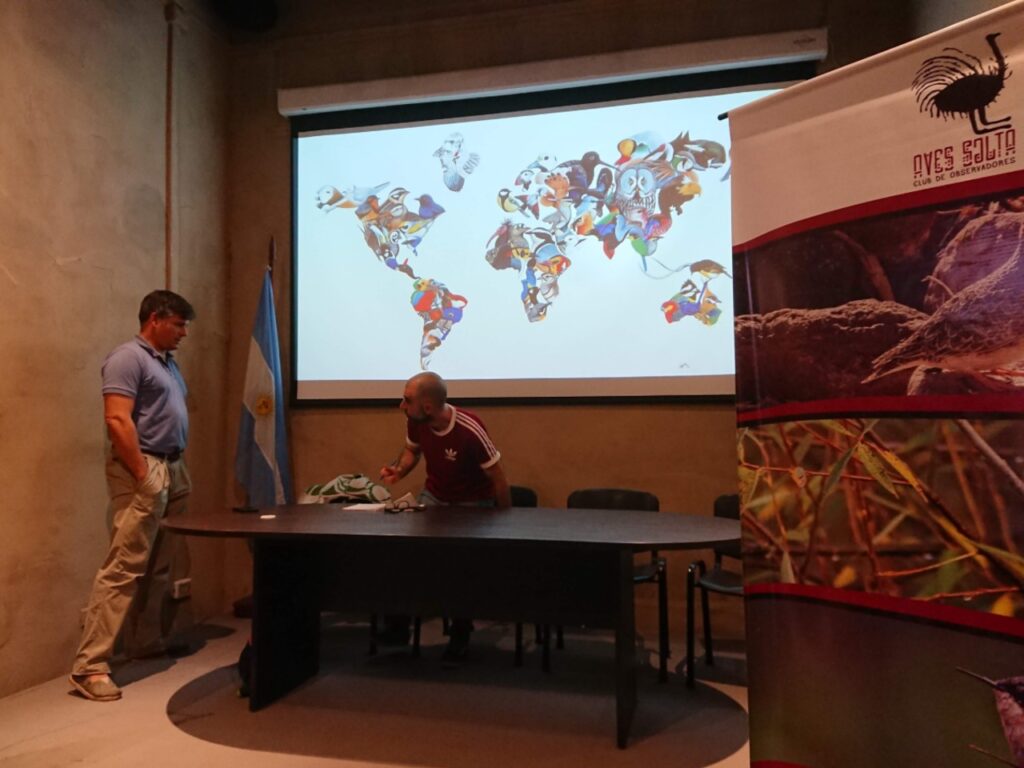 Among cacti and flamingos
Birding among Cacti
The sun had not yet risen when Javier picked us up in downtown Salta. We picked up Martin at a gas station on the outskirts of town. With the car fully refueled, food and drink and a lot of mate, which is indispensable to the Argentinians, we were ready for a long day in the field. However, we still had a good hour's drive, until Global Big Day really started for us.
It was a bit chilly, as the sun had not yet risen so high that its rays could warm us. It was quiet and we were in a very dry and dusty landscape just above 2000 meters.
The vegetation was sparse and consisted mostly of some dry low prickly shrubs and some very tall and characteristic cacti. The locals in Salta province are very fond of the region's cacti, and this is evident in the province's art and design.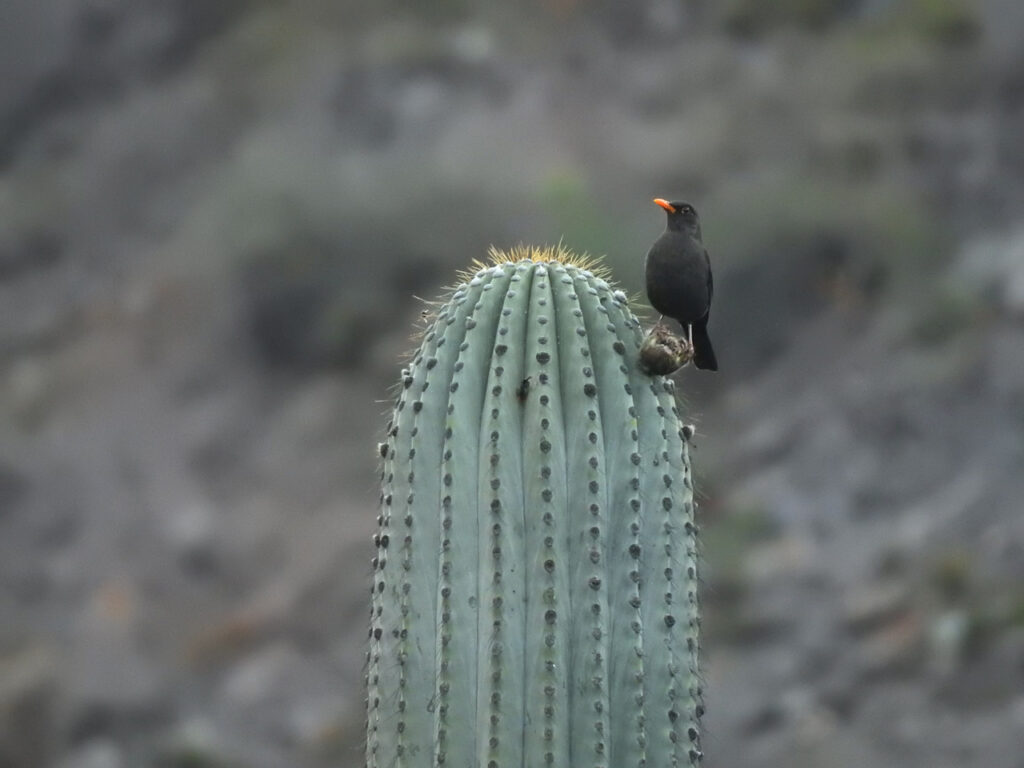 The first birds of the day were hummingbirds – the beautiful Red-tailed Comet and the exciting White-sided Hillstar, which would prove to be fairly common. There were other birds in the scrub like the pair of Plain-mantled Tit-Spinetail we found.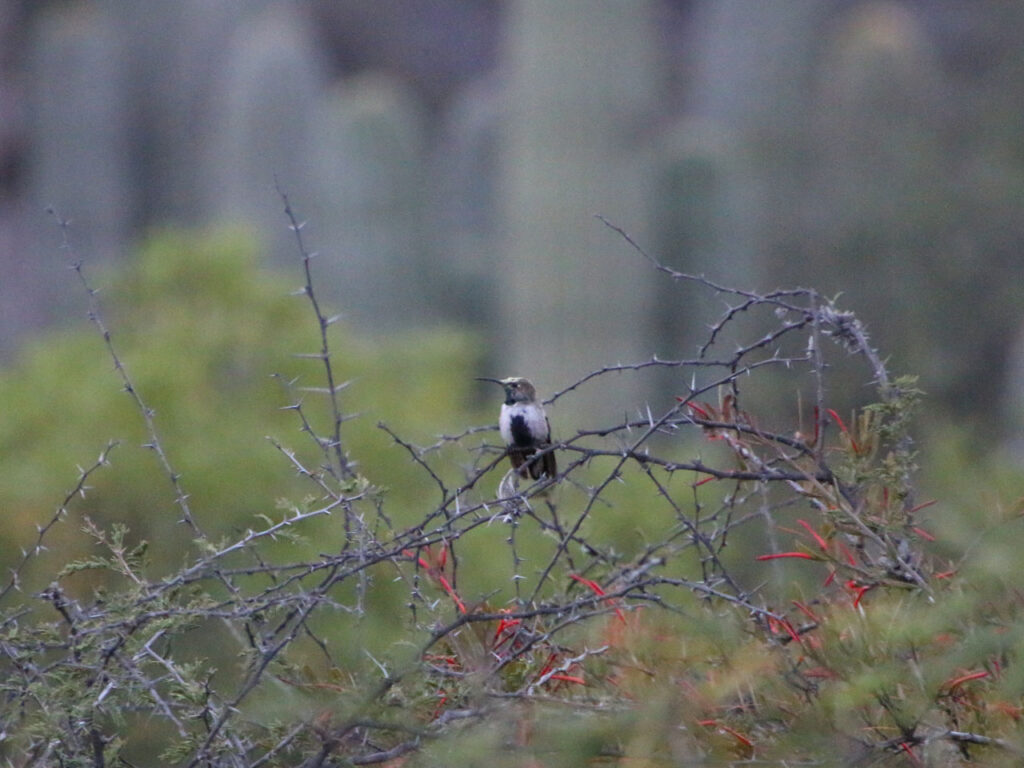 The article continues below this Advertisement
Over the next several hours we stopped at several places on the Ruta Nacional 51 (RN51), which winds through the Andes along Rio Rosario. In some places we checked the surroundings from the road, while in other places we went off the road and searched a slightly larger area. Step by step we got more species on the list.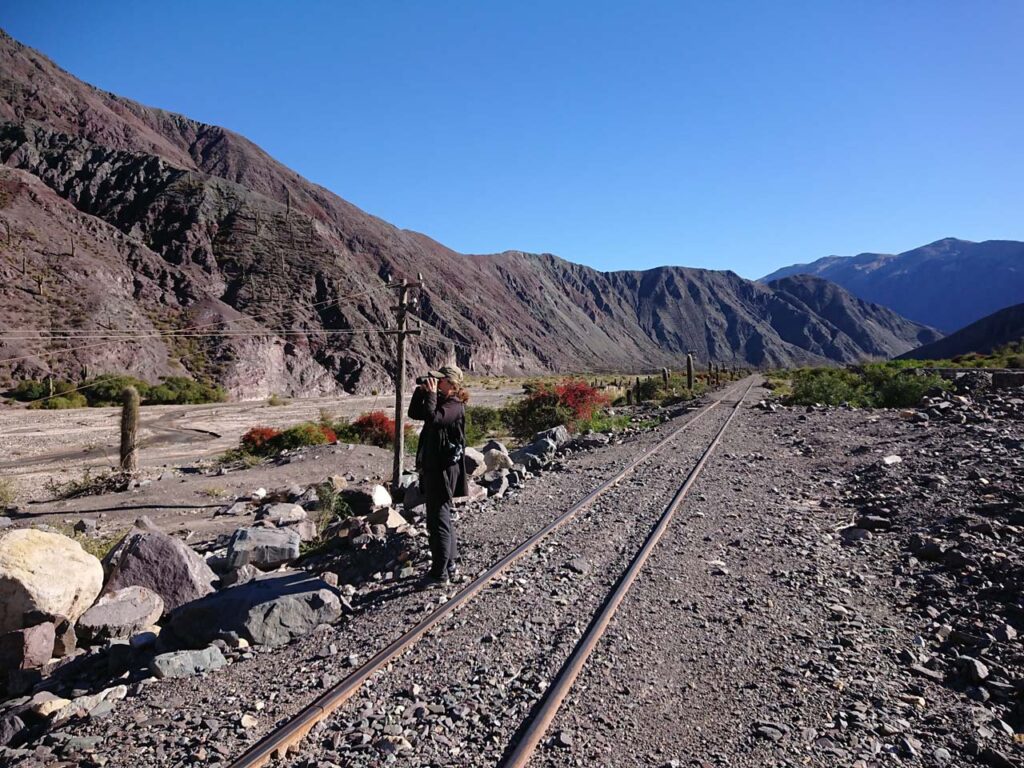 This included species such as Stripe-crowned Spinetail, Cream-winged, White-winged Cinclodes, Gray-hooded Sierra-Finch and one of the world's largest bird species – the Andean Condor.
Birding among flamingos
During the afternoon we drove away from the paved RN 51 and continued for many kilometers along a dirt road that led us to Lagunas del Toro, which are some shallow salt lakes on the high plain where we hoped to get three flamingo species on the list.
From the car, which rattled along the road, we scouted unsuccessfully for Lesser Rhea – an ostrich-like bird living in the Andes.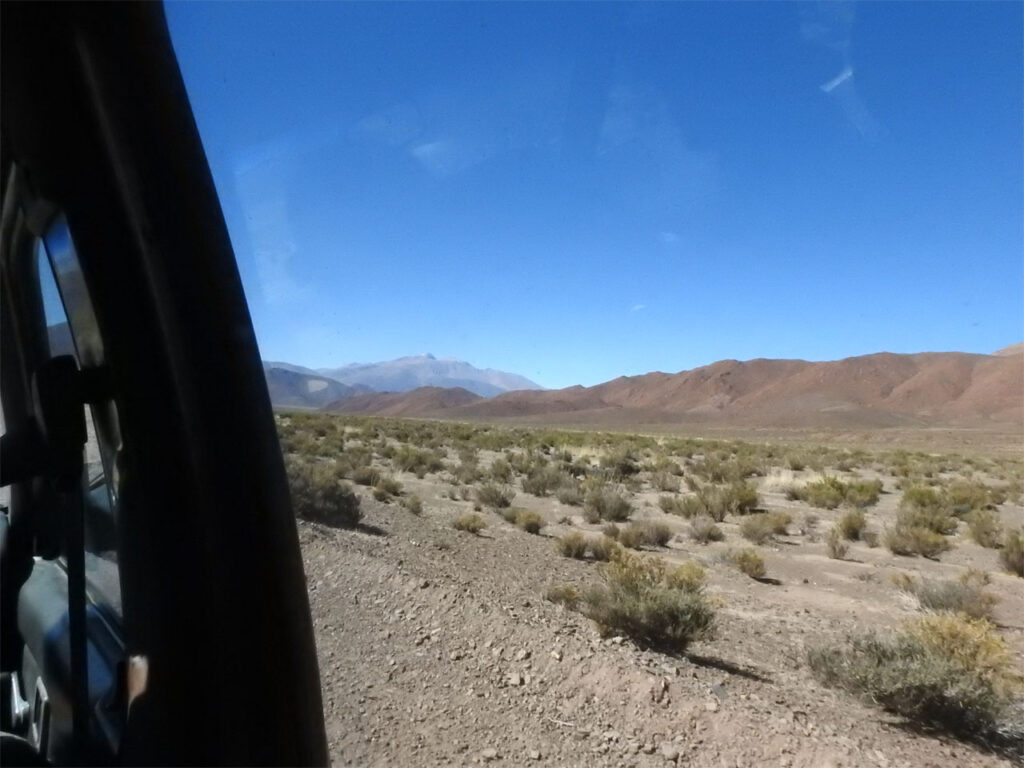 At Laguna del Toro we only found two of the flamingo species: The small James's Flamingo – or Puna Flamingo as it also is called – and the slightly larger Andean Flamingo.
There were about 70 – 75 flamingos in the shallow lakes. Although it could not quite compare to the 5000 American Flamingos we saw on the Caribbean coast of Colombia, flamingos are always fun to see.
There were several species of ducks and we also saw birds like Cinnamon-bellied Ground-Tyrant and Silvery Grebe.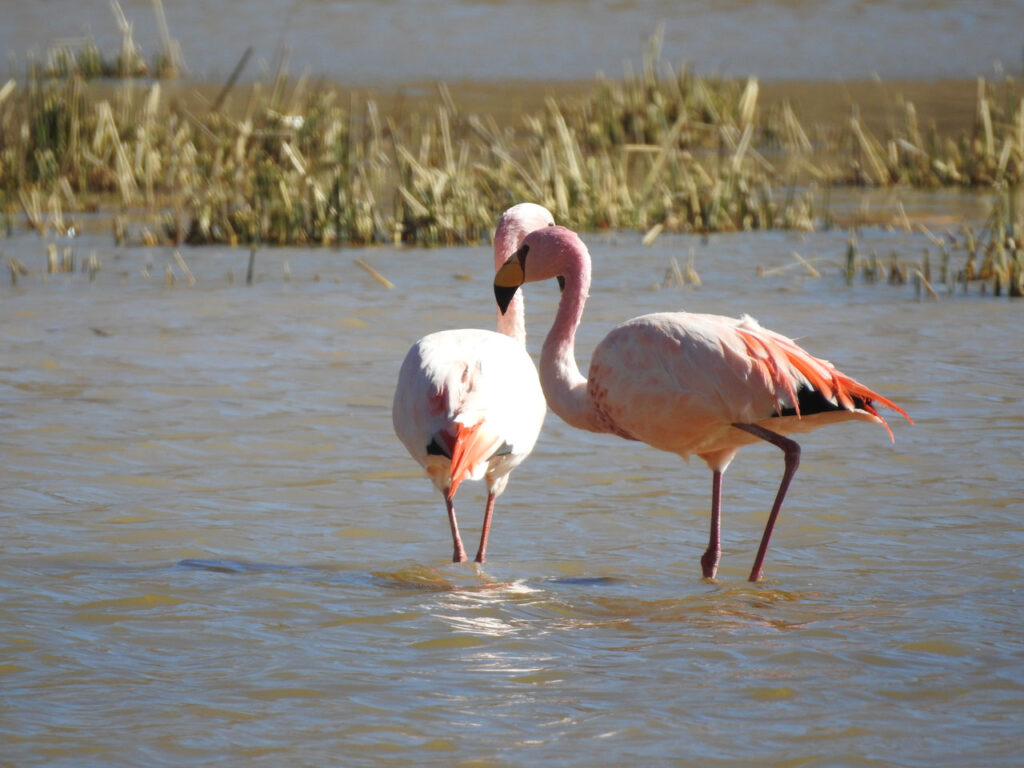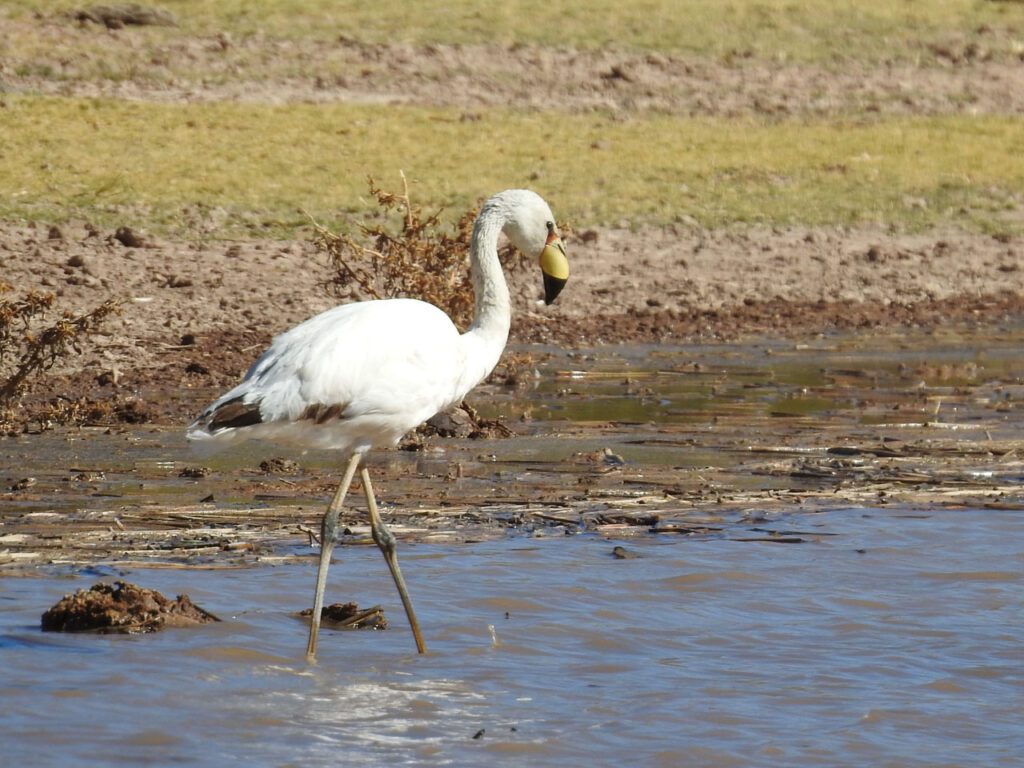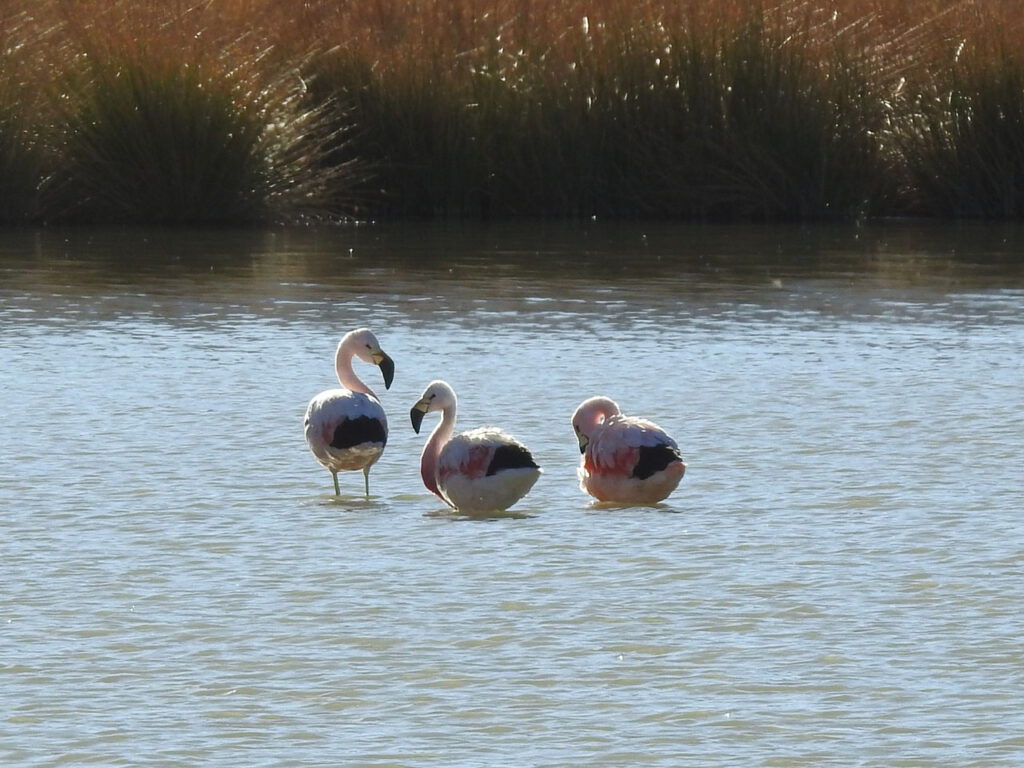 Technical difficulties
Javier's car – a four-wheel-drive – was not of the latest model, but it was fine for the purpose as it could get us to the locations where we wanted to go. But this day apparently meant a little extra work for the car to get it going each time we should continue to the next location! Apparently it was a loose connection to the car battery. But fortunately, it managed to start every time.
But it didn't last. An hour before sunset, when after a stop back on RN 51 again, we wanted to continue the journey up to an area over 4000 meters – the car was completely dead!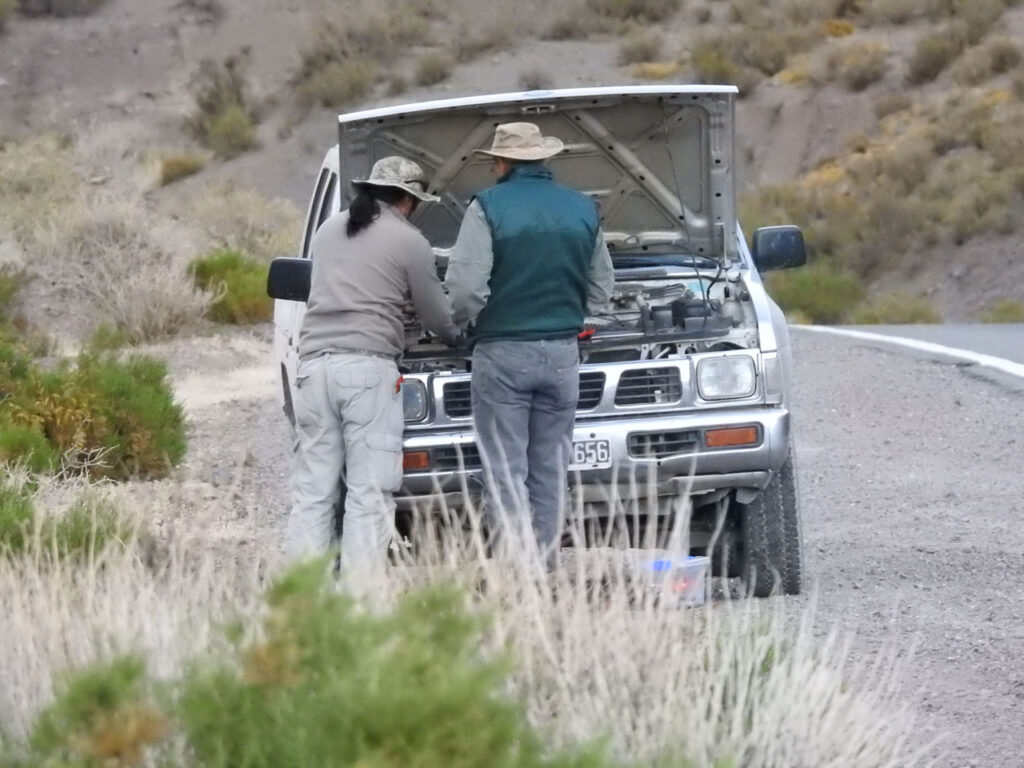 Javier and Martin concentrated on the mechanical work and meanwhile, we tried "pump" our list with some new species.
Some time passed and the last daylight disappeared. We did not manage to find any more species, but fortunately, Javier and Martin finally managed to get the car running again and we could then start the trip back to Salta.
We were home again at ten in the evening – right in time for dinner!
It was a really good trip with many exciting birds and we also got some new species for our own list. Unfortunately, we didn't get to see all the possible species. And the technical problems meant that we did not reach 4000 meters above sea level.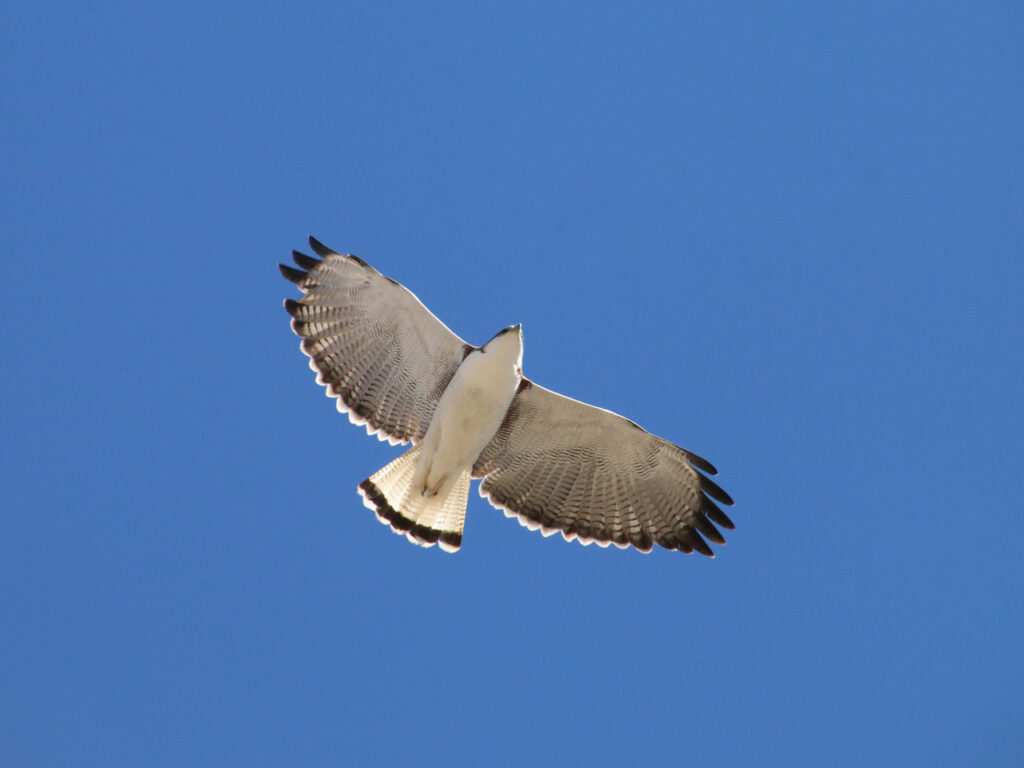 Participate in birding events
It was fun but also exhausting to participate in Global Big Day, as it is about finding as many birds as possible in a day. So you have to do birding efficiently from start to finish. There is no time to relax along the way. It is safe to say that there is a certain element of competition in the event and that it is something that many are very passionate about.
We can highly recommend participating in events like Global Big Day, October Big Day, and EuroBirdwatch or Christmas Bird Count (read about our Christmas Bird Count experiences in Panama: Christmas Bird Count on Pipeline Road).
Firstly, it is a good opportunity to go for a walk in the field and look for birds. Secondly, it allows you to meet other birders and last – but not least – it helps collect data on birds. This contributes to knowledge and documentation about bird species distribution, abundance, habitat utilization, and population trends.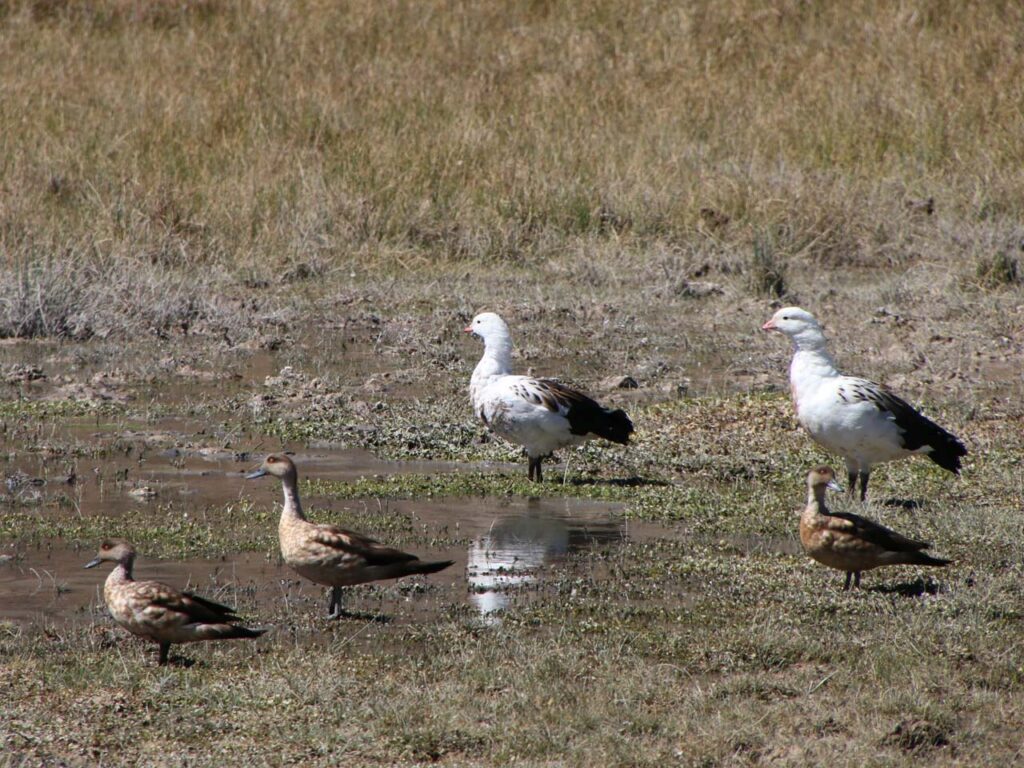 Although there is a competitive element in some of the aforementioned birding events, there is also room for socializing and the opportunity to learn much more about birds. However, be sure to align your expectations with those you are birding with, so everyone agrees on the level of the trip. Don't join one of the more hardcore teams if you are a complete beginner, as you may not get as good an experience as you would if you join a team more on your own level.
We had a great experience and we are definitely ready to be part of Global Big Day again!
With 727 species Argentina came in ninth, retaining their ranking in the top ten (even without Messi).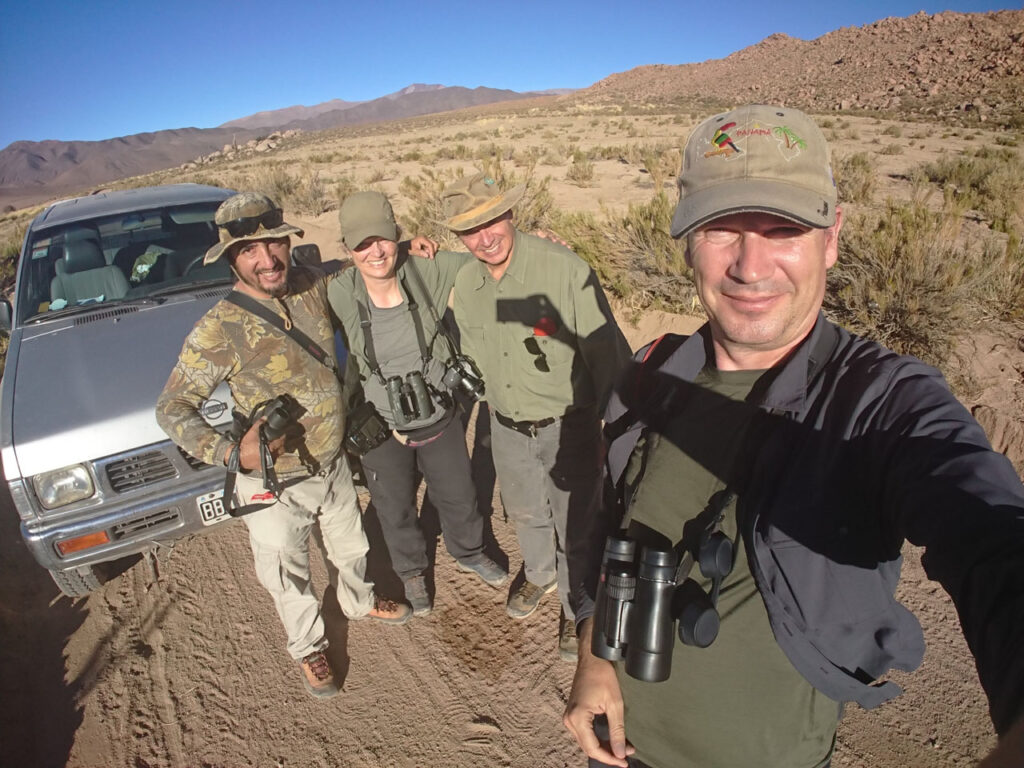 Postscript
If you check the eBird search Global Big Day 2019, you can see that the number of species registered on May 4, 2019, at this time (October 2019) is higher than what we write in the article. In other words, the number can still change. This is due to several things, including that "old" checklists are still entered in eBird. It also cannot be ruled out that the number will change if any typos – or errors – are corrected.
A great deal of voluntary work is done by eBird reviewers to ensure that the data is as accurate and reliable as possible. It can be a lengthy process. But I think you can expect that on May 4, around 7000 bird species were recorded.
All photos © Bente Steffensen & Uffe Damm Andersen.