This post is also available in: Dansk
Family "Meet-up"
The countdown is over – we have started on our Latin American timeout. Though currently we are actually in the United States and not in Latin America – as we start with a week's vacation in Florida (where there are also many who Spanish speakers).
On the first day after our arrival in Florida, we had the first unplanned event – a family meet-up with Uffe's cousin Jette. It turned out that the Atlanta based family was on an extended weekend break in Cape Canaveral, just half an hour's drive from our hotel at Titusville. What are the odds?
We had a really nice afternoon and evening where we also had the opportunity to meet more members of the Binder family who were also on holiday in the States. It was a perfect way to start our journey. And we promised Jette to put her in the blog.
Kennedy Space Center
Visiting Kennedy Space Center, however, was not unplanned as it is a place we have always dreamed of visiting. It was definitely also a great experience, and highly recommended if you think space travel is exciting.
We started with a bus ride around the Kennedy Space Center and drove past the impressive Vehicle Assemble Building (VAB) where the Saturn V rockets and the space shuttles were made ready before the launches. We came past the ramp used by Space X for their rocket launches, and we were also lucky enough to see NASA's crawler transport (CT-2) and mobile launch ramp (ML). They had rolled out onto Launch Pad 39B for system checks. Read more on NASA's website: Along the way to Launch Pad 39B.
It was also a great experience to see the Race to the Moon exhibition in the Apollo / Saturn V building, where we could walk under a real Saturn V rocket (though one that had not been into space). Another very great experience was to see space shuttle Atlantis and the entire space shuttle exhibition
You have to allocate a minimum of one day for a visit, both because there is so much to see and experience, but also because there can be a lot of people. We had chosen an almost perfect day, the day after Labor Day. And why was it not completely perfect when we almost had it all for ourselves? The perfect time would have been if there had also been a rocket launch!
Birding Space Coast
Kennedy Space Center is not the only thing that Florida's Space Coast has to offer. It is also a good and exciting place for birdwatching. We saw several different species of heron, a few Anatidae/different ducks and ospreys – ospreys everywhere, resting and flying. We have never seen so many before.
And we saw Manatees – no, it's not a bird but a mammal, and a strange one at that. We saw at least four different by a channel where they gather. The water was very murky, so even though the Manatees were very close, they were still hard to see, and only a small part of them could be seen when they were in the water.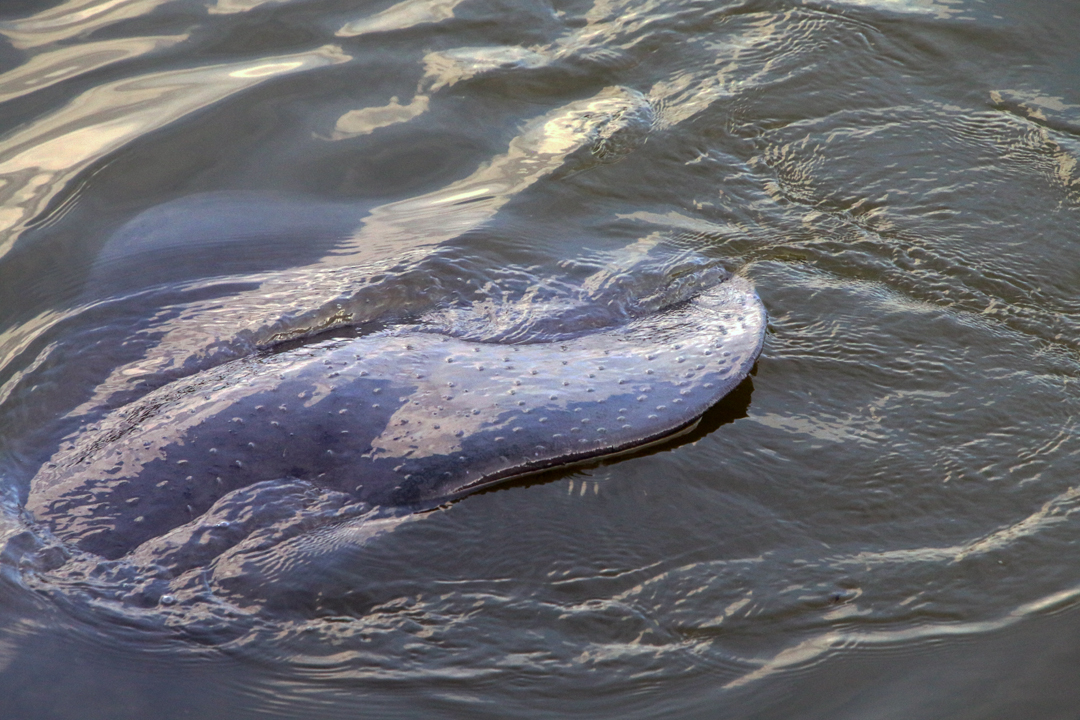 Manatee. Space Coast, Florida.
A flock of Black Skimmers
A target species – a bird on the wish list – was the black skimmer. A very special bird in the gull family. We knew there was a chance to see them along Florida's coasts, for example on the East coast Southwest of Tampa.
We drove to Treasure Island and stayed at the Treasure Island Ocean Club, where we got a room right next to the bar – and it was right next to the bar!
As the hotel's name suggests, it was not far from the water, and we went down to see what was happening on the beach. There were a lot of laughing gulls and a few people, but otherwise, it was very peaceful.
"Hey, look!" – A juvenile black skimmer came flying a few meters past us. Great! A new species checked on the list and, in addition, a target species. Was it a randomly passing bird or were there more along the beach?
There were several black skimmers on the beach. A flock of 51 individuals stood between other gulls and terns a little up the beach. The birds were quite unaffected by the people on the beach, and you could go into the middle of the flock without them moving more than a few steps..
https://www.facebook.com/AlbicillaExplorer/videos/524822634642568/
We spent the following day at Port de Soto Park, half an hour's drive from our hotel. It is a large recreational area where birds can also be seen along the beach. We saw more black skimmers – at least 101, there were also Forster's Tern, Roseate Spoonbill and some wading birds, and again ospreys everywhere.
From tropical storm to warm sunny weather
Weather-wise, we experienced a mixed-bag during our stay in Florida. It started with the tropical storm Gordon "landing" Monday morning, which meant heavy winds and very a lot of rain. However, it cleared with scattered showers. Then it became dry, sunny and very hot, with temperatures around 35 degrees Celcius. The last few days have been a bit cooler with approx. 28-30 degrees Celsius and with heavy thunderstorms in the afternoon.
https://www.facebook.com/AlbicillaExplorer/videos/524822634642568/
All photos and video © Bente Steffensen and Uffe Damm Andersen, unless otherwise is stated.